The Gombessa Expeditions
The Gombessa Scientific Expeditions aim at exploring specific
phenomena occurring underwater all around the globe.
A naturalistic objective first guides the choice of the mission that will generally offer three major challenges; a scientific enigma is always at the core of the expedition; a diving challenge also characterizes the Gombessa projects as Laurent Ballesta, leading organizer of these expeditions, is a long time closed circuit rebreather diver; and last, an image related challenge with a requirement to bring back unique photos and videos of the studied phenomenon.
The team consists of scientists specialized in the studied subject matter, experienced deep divers and talented underwater cameramen. The main scientific objective of the Gombessa IV expedition was to better understand the ecology and, for the first time, the natural hunting behavior of the grey reef sharks. The team used novel scientific protocols and observation techniques developed in consecutive trips to Fakarava since 2014. Laurent Ballesta explained the details of this pioneering endeavour in an interview with our Editor:
I-M: Each of the Gombessa expeditions requires an immense amount of effort and preparation in advance. How long did Gombessa IV take to prepare?
L.B: This expedition took place in my mind on the first-night dive we made in Fakarava, in 2014 during Gombessa II. I had planned a 24 hours dive to witness a whole cycle in the south channel of Fakarava. Therefore, we obviously had to dive at night, and it had never been done before. I was extremely surprised when we realized that the 700 sharks we had previously counted with the team, remained in the channel to hunt, all night long.
We kept our focus on the groupers and their mating, as this was the mission of Gombessa II, but I started thinking about another mission, as this was an exceptional finding and there was a lot still to be discovered, especially about their social structure and hunting tactics.
Although it was difficult to approach the sharks at first, I returned with a small team in 2015 and 2016 to experiment and be confident enough to dive in the pack, surrounded by the sharks.
Of course we surfaced with several bruises, as the sharks bumped onto us violently, but we saw no sign of aggressiveness. In 2017, the mission Gombessa IV was official. So I could say it took me 4 years to prepare for it.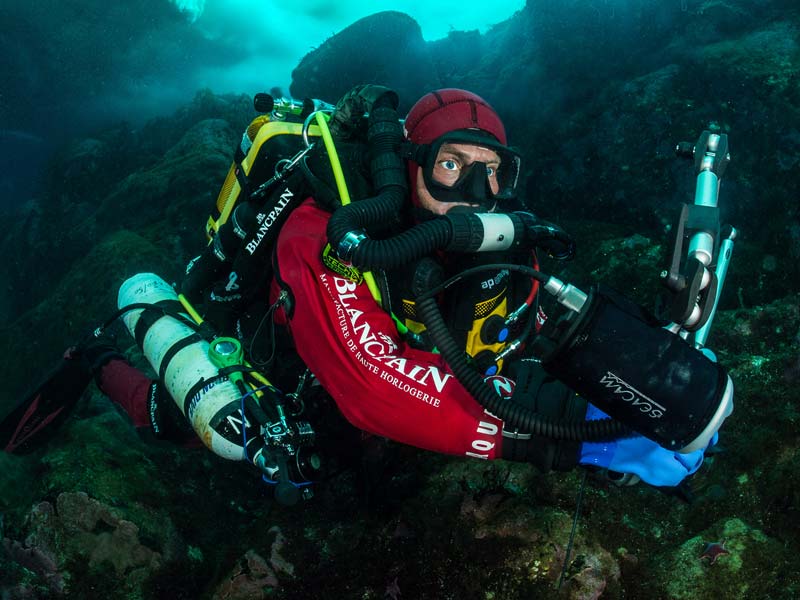 I-M: How large was the Gombessa IV team?
L.B: There were 30 people involved, 5 nationalities combined. We had 3 shark specialists with us from France, Australia and the USA. Also we were joined by 4 acousticians from Belgium, professional divers and scientists from France, as well as cameramen, lighting assistants, and people caring about logistics. Sometimes we were more than 10 in the water.
I-M: What is most important to you about your underwater research?
L.B: The most important thing for me is to contribute to promoting knowledge of underwater life. There are still many mysteries surrounding sea creatures, and many ecosystems have not yet been explored. What I enjoy adding to that is the diving challenge involved in acquiring this knowledge, making complicated dives not for the sake of gratuitous performance, but instead to help advance the diving discipline and increase our knowledge of marine life (such as great depths around 200 meters; very long dives like the 24-hour immersion achieved in 2014; or dives in extremely cold conditions such as in Antarctica, where the water was around -1.8°C).
I-M: Why did you choose to work with Blancpain for the Gombessa projects?
L.B: I'm very proud of working with Blancpain, because their approach to sponsorship is based
on projects' relevance and credibility rather than on their immediate media-coverage potential. They are not looking to pull publicity stunts, but rather to show that they genuinely contribute to expanding knowledge of marine life and to the advancement of diving techniques. I think that's why they appreciate the Gombessa projects, named after the tribal moniker for the famous coelacanth: a creature thought to have been extinct for 65 million years and a descendant of the first fish believed to have emerged from the water 370 million years ago and to have engendered all four-legged earthly creatures, including Man. Our first joint expedition involved setting out to meet it, study it and take photographs of it for the first time ever in a scuba diving expedition. Since them, I've decided to call all my future expeditions Gombessa, providing they comprise the three following elements: a scientific mystery to be elucidated; a diving challenge to be taken up; and the promise of unprecedented underwater images.
I-M: Did you have to change your work at all once you got Blancpain as a sponsor?
L.B: Working with Blancpain, I haven't had to change anything about my attitude. And I know that there are plenty of sponsors that, once they sponsor you, they ask you to do publicity. And with publicity, it's much easier to say that you are studying Great White Sharks than the Coelacanth fish. Nobody knows about that fish, so they could have easily told me that this fish was too complicated a subject for them to invest in. So I'm very pleased that I haven't had to change that.
I-M: How do you distinguish your searches from those of other divers around the world?
L.B: What I try to do is to never lose sight of the three values to which I am passionately dedicated:
knowledge, know-how and letting people know. In other words, I think that the standout features of my projects – and above all my team – lie in their three-fold sporting, scientific and artistic competence. I am strongly committed to ensuring respect for these values, by undertaking daring projects that are also realistic and useful; as well as by performing scientific work without neglecting the artistic side of things. It is perhaps this ambition to achieve such deliberate ambivalence that sets me apart from the rest, although I would not claim to achieve this goal on every single occasion!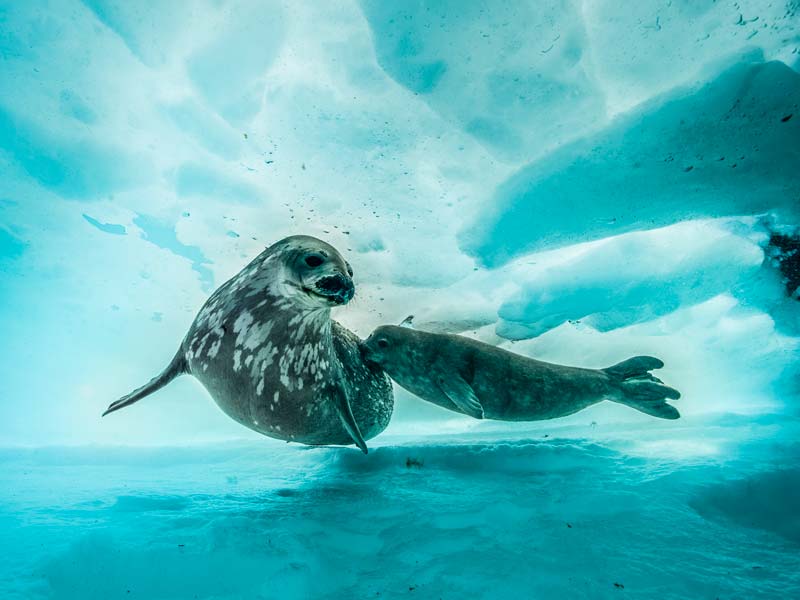 I-M: How has your attitude towards ocean exploration changed over the years? Do you think the public realises the importance of protecting our oceans?
L.B: I have always taken great pleasure in exploring sea beds, although I quickly realized that I had to infuse meaning into this pleasurable activity if I were to make it my profession. Contributing to knowledge and successfully engaging audiences through our images is clearly a very good way of raising awareness and promoting respect for nature. I come from a very modest background and I know only too well that ignorance and boredom are the primary causes behind our negligence and our bad deeds.
I-M: It is difficult to really grasp how big the oceans are. What percentage of the oceans have humans really explored?
L.B: Less than two percent of the ocean's depths have been explored by humans. On the ground,
life is possible until about 20 centimetres underground. After that, there's nothing. And the
sky is essentially a desert. But in the ocean, no matter how deep it is, there is still life and
bacteria everywhere at every level. So yes, we often hear that the ocean covers 70% of Earth,
and that's true in terms of surface. But when you think in volume of water, about 99% of the
planet is water—a planet that, funnily enough, we call Earth.
I-M: At what point does your job become dangerous?
L.B: It's dangerous if you are unprepared. If there is no technical preparation and/or no physical
conditioning, it becomes dangerous. It's a paradox because it is not like other sports. I can take anyone with me by the hand, even if they can't swim, but if you make one small mistake when you are deep underwater, you quickly realize that you are not a fish. During particularly long and deep dives, there is this point of no return, where you are committed and all of a sudden, the door is closed. Going back to the surface isn't going to be for another five or six hours, and there is no alternative.
I-M: How do you ensure everyone's safety on a dive?
L.B: The real security measure is caution. I see it in my own team, which I've had for over 15 years, with some new recruits along the way. Sometimes I will meet a guy who will say to me, "I will follow you anywhere around the world," but I will never take him on board; I want a guy who is careful. For example, Jean-Marc Belin, who accompanies me on all my dives, is extremely cautious. Every time I go to him with a crazy idea, his first reaction is always, "We can't do that; you are crazy." He always starts from a place of caution. Most of the time his first question is: "Why do you want to do this?" So my job is convincing him why it should be done, and if I convince him, he'll finally admit that the idea has some merit and will try to find a solution.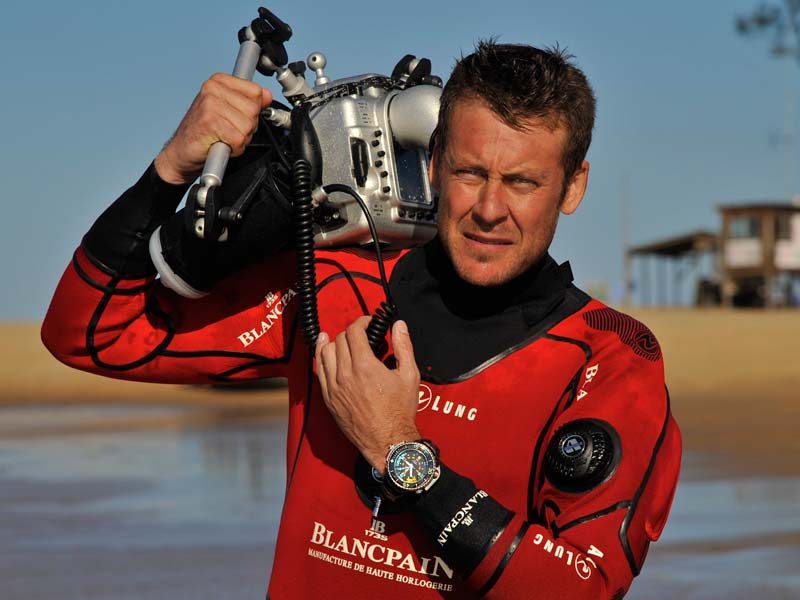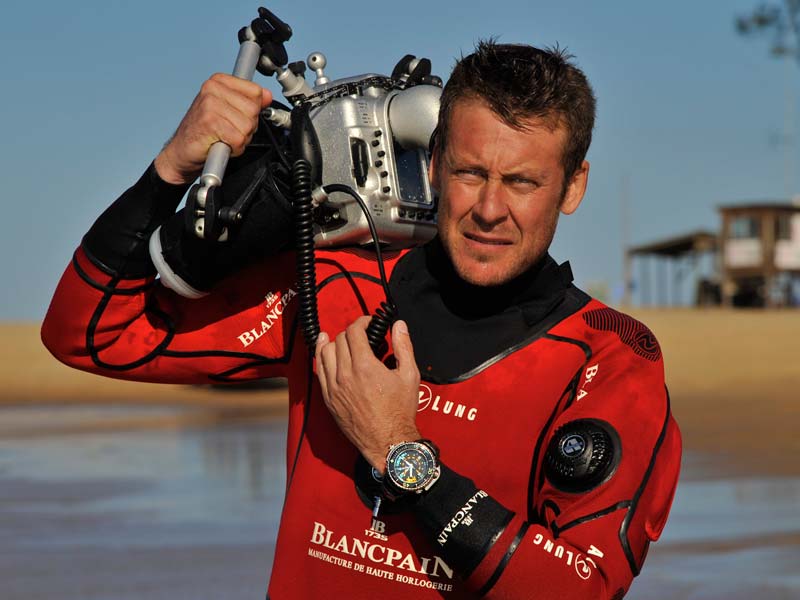 About the Blancpain Ocean Commitment Programme
Blancpain has enjoyed historical links with diving since the 1953 launch of the Fifty Fathoms, the first modern diving watch. In recognition of this heritage, Blancpain is committed to contributing to the knowledge and preservation of the underwater world. It is for this reason that the brand supports a large number of significant scientific endeavors, among them, the Gombessa expeditions, led by French ocean explorer Laurent Ballesta.
Blancpain's commitment to the underwater world took on a new dimension in 2014 with the collaborative gathering of all its partnerships under the label Blancpain Ocean Commitment, as well as with the launch of the first series of Ocean Commitment limited edition watches. Today, four years and more than 4 million square kilometers of protected ocean later, Blancpain has contributed to doubling the protected ocean surface area, and financed 18 expeditions in 7 continents.